​

Employers > Recruitment Solutions > Salary Reports & Benchmarking
Salary Reports &
Benchmarking
Although non-monetary benefits are growing in importance, paying people fairly is still paramount to remaining competitive in both candidate attraction and staff retention. Understanding what the market is willing to accept will assist you in developing salary brackets that will provide your business with the best chance of securing the right people. However, average salaries frequently shift so managers need to regularly examine external remuneration data to ensure their salary ranges continue to align with the business's talent strategy and market expectations.
Benchmark Your Salaries Against
Market Information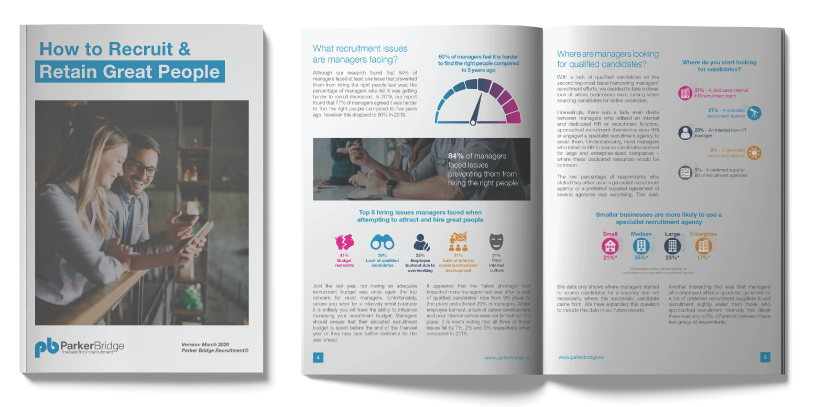 Parker Bridge produces an annual recruitment and salary benchmarking report that provides hiring managers with market data on trends across salaries, benefits packages, candidate priorities and leading causes of staff turnover. This report is freely available by booking in a visit with one of our Consultants who will discuss these trends in the market with you.
Use the form on this page or call us on the numbers provided to book in a free consultation.
Featured Testimonial

​

"We needed some temporary staff due to a high volume of work but also needed a permanent staff member. Unfortunately, applications we were receiving were not meeting the criteria we needed so we turn to Louise and Parker Bridge. It was very refreshing to work with Louise, I could not commend her professionalism enough. From the first meeting, she was hands-on, listened to exactly what we were looking for and explained in full what she could offer. Even after candidates were appointed, Louise kept in regular contact and made the whole process very easy for us. Louise is extremely reliable and when I called through to Parker Bridge reception, I was always treated fantastically. Louise was excellent throughout the whole process but for me, it was the small things that made a big difference, such as checking in on the staff and making sure communication was always maintained. Louise has a great ability to not only get us the staff we need but to also build a great relationship with us."

Claire, Customer Service Manager
Need a Salary Report or Benchmarking Service?